Think about your HVAC system – it filters all the air circulating throughout your home. Even during the cooler months when you have windows open more often, the minute you turn on your heat to warm up your home your HVAC system is pushing warm air through the ducts into each room of your house. Compare it to a water filter where if you remove a filtration system, then you are the water's filter. If your HVAC system doesn't have a filter that gets changed regularly or you haven't ever had your HVAC system cleaned, then your lungs become the filter when you breathe in the unfiltered air.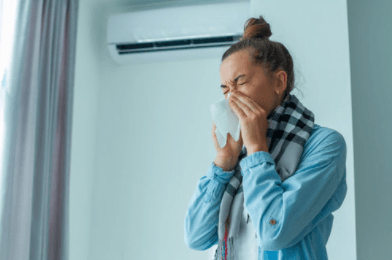 What Could Be Hiding In My HVAC System?
There have been numerous studies done by several universities and research companies and there is a growing concern with the indoor air that we breathe daily. Specifically, microbial growth in heating, ventilation, and air conditioning (HVAC) systems should be a concern for all home and business owners. The inside of an HVAC unit is a dark and damp environment that can shelter endotoxins, bacteria, fungus, pollen, dust particles, and other pollutants. When air passes through the HVAC system to be cooled or heated, it can collect these toxins and transfer them into the air, which then affects your indoor air quality.
What Can Happen From Toxins In My HVAC System?
Pollutants in your HVAC system go through your air ducts into each room of your house. These toxins can cause many things, including allergies, colds, upper-respiratory infections, sinus infections, diseases, skin irritations, and more. If you have been suffering from any unusual symptoms that you don't normally have, consider following our advice in the next section.
How Can I Keep My HVAC System Clean?
By signing up for one of our maintenance plans, this will ensure that your HVAC system is running in top shape and functioning at it's best. Keeping your HVAC system maintained regularly by a licensed professional, can increase the life and efficiency of the unit. In addition, having your HVAC system professionally cleaned can remove many of the toxins from your unit and subsequently they will be removed from the air you breathe indoors.
Always remember, Five Star is available 24/7/365 for all your plumbing, heating & air, electrical, insulation, and indoor air quality needs. Contact Five Star at 864-715-9906 to meet with one of our expert technicians.