In our blog post last month, Where is the most Dangerous Place to Find Mold In Your Home, we revealed the most dangerous place mold can grow in your home…your air ducts! This is why it is so important to look for signs of mold around your air vents and to have your air ducts clean if you suspect any mold growing. Most people avoid getting their air ducts cleaned because they are unsure of the cost and don't have the time to commit to having it done. If you haven't had these kinds of services before, then you don't know what is involved and if it is worth it.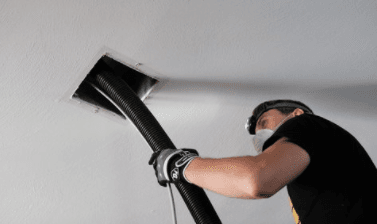 Steps For Air Duct Cleaning
No matter who you choose as a provider to clean your air ducts, there are several things that should happen during your air duct cleaning service. You can confirm that these things will happen prior to scheduling an appointment with them.
Ducts will be cleaned thoroughly with a variety of powerful air-moving devices and attachments so the entire length of your ductwork will be cleaned. If they aren't, then only the first few feet of the air duct will get cleaned.

Once the air ducts are cleaned, then the HVAC unit should be taken apart and thoroughly cleaned out to remove dust, lint, dirt, dander, and other debris. Specifically, the blower motor has a lot of stuck debris on the fan blades. Once it is completely cleaned it will run much more efficiently.

The technician should also be cleaning all the coils, surfaces, and components of your HVAC system.
If you didn't get confirmation about these specific cleaning steps prior to making the appointment for the air duct cleaning, make sure to ask questions during the cleaning process to ensure nothing is being overlooked. If you are hesitant to ask questions, just tell the technician that you are interested in the process of air duct cleaning. The technician will most likely be happy to teach you about the work they do.
Tips On Hiring An Air Duct Cleaner
Depending on the city or town you live in, you may or may not have a lot of choices for air duct cleaning companies. No matter how many companies are in your area, you want to be sure that you select a reputable company that provides the best service. When you research each company, read their customer reviews and ask neighbors and friends if they have ever used the company's services. If the company's reputation is good, then contact them for a quote. Some companies can provide a quote over the phone based on the size of your home while others prefer to give a quote in person after seeing your residence firsthand. Also, make sure any company that you choose follows the best practices for cleaning that are recommended by the National Air Duct Cleaner Association.
Ready To Hire An Air Duct Cleaner?
To schedule your air duct cleaning with the best in the business, contact Five Star.