Plumbing emergencies happen all the time, whether you own an older home or a newer one. The most common plumbing issues are water pipe leaks and plumbing fixture leaks. Dealing with a water leak can be a pain, and it can become worse if there is water damage to other parts of your home. However, if you prepare yourself on how to handle a water leak then it can prevent further damage and help you protect your home.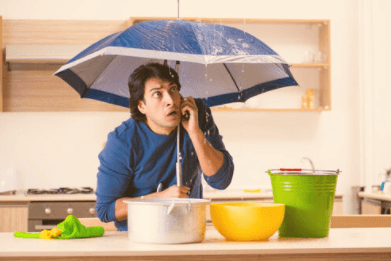 Tips For Plumbing Emergencies
Remember these tips when handling any future plumbing emergencies in your home:
Valve Shut-Off – Locate your home's main water valve and know how to shut it off in case of a plumbing emergency. It could help prevent a major flood if a pipe were to burst in your home. If your home is hooked up to city water, then the water valve is located close to your water meter or the outside of your home near the entrance to a crawl space.
Kitchen and Bathroom faucets – If you have a kitchen or bathroom fixture leak then make sure to shut off the water valve to that faucet, which is usually located under the vanity or cabinet. If you have a bathtub faucet leak, then the valve shutoff might be located in a panel behind the faucet, but if you can't find it, then your best bet is to shut off the main water supply until a plumber arrives.
Leaking faucet – Even a minor leaky faucet can add on to your water bill, and if the leak has gone unnoticed for a while, then it can significantly increase your monthly water consumption. Make sure to turn off the water to the faucet until the leak is fixed.
Water Heater – If you have a leak in your garage and have both a refrigerator and water heater in the garage, it's best to shut off the water heater. After you turn off the main water valve to your home, turn off the water heater to prevent heat from increasing inside, which can increase the risk of bursting or overheating. If you have a gas water heater, make sure you turn off the gas first.
When you call Five Star for plumbing services, make sure to describe the issue you are having and listen to our team of experts. All of our staff at Five Star are all trained to provide initial help over the phone in the event of an emergency. If the situation sounds dangerous, make sure you listen if they advise you to leave your home until help arrives.
Five Star cares about the safety and health of your family and home. We are available 24/7/365 for all your plumbing, heating & air, electrical, insulation, and indoor air quality needs. Contact Five Star at 864-715-9906 to meet with one of our knowledgeable, honest, and expert technicians.