HAVING A WATER HEATER IS ONE OF THE MODERN CONVENIENCES THAT WE TAKE FOR GRANTED.
When your water heater breaks it can cause a lot of stress – no one wants to take a cold shower, even if the idea sounds fantastic during the hot summer months!
Even if your water heater is in excellent condition now, there are a few things you can keep an eye on so you are prepared if it were to break. While most water heaters are rated to last at least a decade, there are things you can check on yours to add additional life to it. In this blog post, we provide you with the things to look for when checking it, how to stay safe while looking at it, and some things to do to save money.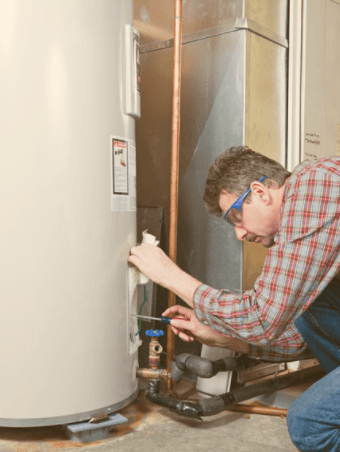 Tips To Help The Longevity Of Your Water Heater
Following these simple tips can help add years of use to your water heater. Remember, if you don't feel safe inspecting your water heater yourself, contact Five Star to have one of our licensed plumbers inspect it for you.
Check the fittings and if they are loose, tighten them

Look around the base of the heater to see If there is any water dripping or pooling, this can help you avoid water damage issues if mold were to begin growing or flooding were to happen

Listen to your water heater when it is running; if you hear a rumbling sound then check for minor leaks near the supply lines. If you hear this noise or find a leak, it might be time to replace it before it fails or ruptures (worst case scenario).
Like all appliances, over time they can begin to corrode. In a water heater, sediment builds up and it can increase the time it takes for the water heater to fail.
What Should I Do If I Find Any Of The Water Heater Issues Mentioned Above?
First, don't panic. Most water heaters take years for issues to develop. Next, follow these steps to turn off the water heater:
If you have a gas water heater, turn the thermostat dial to the OFF position and shut off the gas supply line. If you have an electric water heater, turn it off at the circuit breaker.

Turn off the water supply valve to the heater. If you aren't sure where this is, you can always turn off your home's main water supply.

Next, you want to drain the heater. If you don't have an emergency drain next to the heater to drain the water from it, you can hook up a hose to the drain valve and run it outside or into a nearby sink. Open the drain valve using a tool, and then open the pressure relief valve so there won't be a vacuum.

Note: The water will most likely still be hot, so make sure to wear protective gloves, clothing, and eyewear.

Once the heater is completely drained, open the water supply back up to rinse out any of the sediment that still at the bottom of the tank.

Contact Five Star to schedule one of our licensed plumbers to assess the situation and determine the next step.

If the unfortunate worst-case scenario happened to you and your water heater exploded and caused damage and flooding, make sure to take pictures of everything so you can document everything for your insurance company. Your level of coverage will depend on your insurance policy, but it is always important to have evidence of any damage caused.
We understand that replacing a water heater can be very costly, but at Five Star we always want our customers to be safe in their homes. We care about our customers and don't ever want them to have a worst-case scenario. That is why we are here for you whenever you need us, 24/7/365.
Contact Five Star today for all of your plumbing, heating and air conditioning, electrical, insulation, and air quality needs. We have convenient locations servicing you in Greenville, Spartanburg, Oconee, and Charleston, SC; Henderson, NC; and surrounding areas.