Toxic chemicals and pollutants can find their way into your home in very interesting ways. It is important to know the signs of a healthy home so you can identify where toxic chemicals are entering and remove them. The things to look for are hidden toxic chemicals, heavy metals, fumes, and other indoor air pollutants. Every room in your home needs to be checked for signs of a healthy home, and we have come up with a list to help you navigate your home to make sure it is healthy.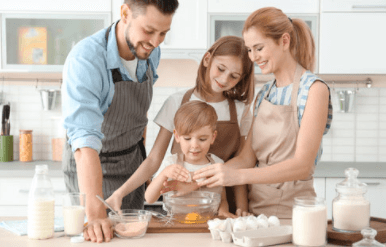 Healthy Homes And The Kitchen
We all know that cleaning chemicals that contain harmful chemicals have warning labels, and while we should stay away from them if you do have them in your home it is important to keep them locked up so children and pets can't access them.
Another chemical that can be found in the home is bisphenol A (BPA) and it is found in many hard plastics. The last few years a spotlight has been shined on this harmful chemical and it has been removed in most of the plastics sold today. However, if your home contains older plastic containers then it is likely you still have BPA lurking in your kitchen. It may be costly to replace those plastic containers, but it will help keep your home healthy and remove the harmful chemical from your kitchen. And remember, don't ever microwave food in a plastic container, even if it is BPA-free. Instead, transfer the food to a paper plate or glass container before heating it.
Non-stick cookware is known for its ease of cleaning and cooking, but when heated at high temperatures the synthetic coating called polytetrafluoroethylene (PTFE) is activated and the fumes can give you flu-like symptoms. Consider replacing your non-stick cookware with stainless steel or cast iron.
Healthy Home And The Garage
Homes that have attached garages have an easy way for car gas fumes to enter the home. Other engine liquids like freon and oil can also leach into the home and add to the air pollutants. Also, many people leave leftover paint in their garage which also adds to air pollutants. To help reduce these pollutants in your home, leave your garage door open several minutes after shutting it off so the fumes can easily be release outside instead of in your home.
Healthy Home And The Bedroom
This one might surprise you! In your bedroom, the biggest pollutant might be your mattress! Yes, if you sleep on a traditional mattress it is probably made up of polyurethane foam that was legally required to be drenched in flame retardant chemicals so that it can withstand a certain amount of heat if it were to catch on fire. Up until 2005, the most common flame retardant used was polybrominated diphenyl ethers (PBDEs), and since then it has been banned because it can disrupt thyroid hormone activity. If your mattress was made before 2005, it might be time to consider replacing it.
Tips To Keep Your Home Healthy
First on our list is cleaning your floors. Carpets are the perfect place for indoor air pollutants and particles to store themselves. To clean them, use a high-efficiency particle air (HEPA) vacuum and clean them frequently. Vacuums that contain a HEPA filter collect the pollutants without re-releasing them back into the air.
Next, if you have any gas appliances in your home it is important to install a carbon monoxide (CO2) detector near all bedrooms. If there is any carbon monoxide detected in the home the alarm on the detector will go off alerting you that danger is in your home.
Last on our list is having your air ducts cleaned. Even if your home is only a few years old, dust and debris can collect within the air ducts and push the toxic chemicals back into your home anytime the heat or air is running.
Five Star cares about our customers and the health of their homes. For plumbing, heating and air, electrical, insulation, and indoor air quality contact us today.